Introduction of Gasketed Heat Exchanger:
1. AU, AC, AS, AP Series
2. Connection Size: DN32-DN500
3. Max Flow Rare: 4500m3/h
4. Max Load: 60MW
5. Temperature Approach: Under 1 ℃ (Heat Recovery)
6. Thickness: 0.4, 0.5, 0.6, 0.7mm
7. Max Design Pressure: 26Bar
8. Max Design Temperature: ≤180℃
9. Material of Gasket: NBR, HNBR, EPDM, HEPDM, VITON
10. Material of Plates: AISI304, 316, 316L, Titanium, Has Alloy Nickel, SMO254

Gasketed Heat Exchanger
External Diagram of ZZGroup Gasketed Heat Exchanger
Main Dimension of Gasketed Heat Exchanger: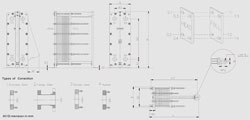 1. Application of Gasketed Plate Heat Exchanger in Marine
1). Main Engine
2). Auxiliary Engine
3). Heat Exchanger for Central Heating
4). Freshwater Generator

5). Central Cooler
6). Gear Oil Cooler
7). Lubricating Oil Cooler (Auxiliary Engine)
8). Lubricating Oil Cooler (Main Engine)

9). Seawater Filter
10). Seawater Pump
11). Freshwater Pump
2. Application of Gasketed Plate Heat Exchanger in Dairy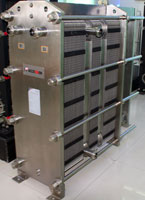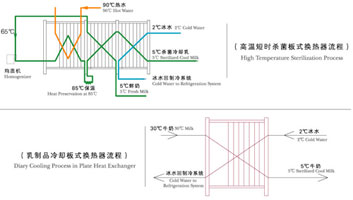 The gasketed plate heat exchanger (multi-section) is widely used in dairy plant for pasteurization and cooling process. During milk ultra high temperature pasteurization, the low temperature milk passed into heat recovery section gasketed heat exchanger through balance tank 1 and material pump 2, the milk will be pre-heated there. After pre-heating, the milk will enter into homogenizer for homogenizing. After that, it will enter into heating section of gasketed heat exchanger, and be heat into 137℃. The milk will be insulated 4 second at 137 ℃ for UHT. After UHT, the milk will enter into cooling section of gasketed plate heat exchanger. After cooling, the milk can be packaged.
ZZ Group is a plate heat exchanger manufacturer, designer, distributor and servicer in China. The gasketed heat exchanger are widely used in the HVAC, cooling, power, metallurgy, chemical, food, electronics, marine, and environmental industries. Our products have been exported to Asia, the Middle East, and Eastern Europe, such as Russia, Ukraine, Poland, Indonesia, Thailand, UAE, Qatar, Saudi Arabia, Pakistan, Bangladesh, Mongolia, India, Iran, Jordan, Venezuela, Macedonia, Singapore and Vietnam. If you need gasketed plate heat exchangers, please don't hesitate to contact us.
Related products
Welded Heat Exchanger
1. Laser welding for plate, no gasket
2. High hear transfer efficiency with almost all plate surface for heat exchanging
3. Low cost of using and maintenance

Brazed Heat Exchanger
It's a collection of plates, vacuum brazed together with no gaskets, reducing leakage. They are compact, lightweight and have a high turbulent ...