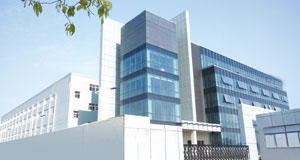 ZZ Group is a heat exchanger designer, manufacturer, distributor and servicer in China. Founded in 2002 in Shanghai, we are a Sino-American joint venture company with over 600 employees, 4 manufacturing plants, 400 service outlets covering 27 Chinese provinces, and two technical training and product centers. All of our equipments are certified by America's ASME, America's API, EU's CE, and French's BV. We also meet with ISO quality certificate ISO9001: 2000, ISO environmental quality certificate ISO14001: 2004 and occupational health and safety certificate OHSAS18001: 1999.
We possess 17 years' experience of producing, selling and serving. We can produce about 3000 pieces assorted plate heat exchanger sets, 20,000 pieces different types PHEs per year. Our company offers a variety of heat exchanger products, such as such as plate heat exchanger, spiral heat exchanger, plate and shell heat exchanger, plate evaporator, plate condenser, and plate heat exchanger system. It is widely used in the HVAC, cooling, power, metallurgy, chemical, food, electronics, marine, and environmental industries.
Our products have been exported to Asia, the Middle East, and Eastern Europe, such as Russia, Ukraine, Poland, Indonesia, Thailand, UAE, Qatar, Saudi Arabia, Pakistan, Bangladesh, Mongolia, India, Iran, Jordan, Venezuela, Macedonia, Singapore and Vietnam. We have designed, produced, and installed heat exchangers for Coca Cola, Sinopec, Siemens, Foxconn, Bayer, and many other Fortune 500 companies and large facilities. We can also provide OEM service.
Being located in Shanghai, the biggest port city of China, we have a transportation advantage. And thanks to this, customers' cost could be greatly reduced.
Quality Control
In order to produce high quality tool with high strength, safety and reliability, we control the quality under the requirements of NDT
The Basic process is
1. Light box inspection
2. Visual inspection for 22 check points
3. Two sampling: magnaflux inspection and liquid penetrating test
4. Water pressure test
Cost Control
In order to provide the customers with a reasonable price, we have taken all measures possible to lower our costs while guaranteeing our products' quality.
The raw materials of plate heat exchanger, are stainless steel and titanium, have fluctuating prices. As our annual raw material purchases are hundreds of millions of Yuan, we have strong bargaining power with suppliers. Moreover, we have signed a long-term strategic partnership with stronger suppliers. Therefore, we can make sure the price advantage of raw materials.
Research and Development (R & D)
ZZ Group has two research and development centers, respectively in Shanghai and Beijing, a strong R & D support team in USA. ZZGroup International USA is an independent consulting firm specializing in Heat Transfer technologies. The company's expertise stems from a team of industry and academic experts with a wealth of experience in the many facets of heat exchangers.
Pre-sale Service
For plate heat exchanger, we can supply Stainless Steel Plate and Gasket sample to your inspection and the cost of courier is bear by us.
On-sale services
We will supply a sum of fragile spare parts with consignment; also include special tools on free basis. The delivery is different subject to order quantities, generally 20 days for regular order.
After-sale Service
Warranty and Guarantee
1. Performance guarantee (thermal and pressure drops) is applied to the design as stated in the ZZGroup data sheet and mechanical for defects due to faulty materials or workmanship are offered for all items of equipment selected and procured by ZZGroup.
2. The warranty shall be valid for a period of Eighteen (18) moths from the date of delivery, or Twelve (12) months from the date of plant acceptance, whichever date is earlier.
Other services
Each enquiry and order will be customized design, selection and fabrication. We can conduct factory and onsite training in option Custom sizes are always available.
Related products